Thinking of creating your own Live Video Escape Room or converting one of your existing Escape Rooms? Here are some of the things you'll need. I'll be updating this page as more information becomes available so please do get in touch at
tom@livevideoescaperooms.com
if you have anything to add to it! I gave a talk on this subject at the
Escapazon
online conference, you can
watch it on YouTube here.
Cameras
You're going to need a camera to stream the video of course. For most games you'll want a camera that the host can carry around and move to show different aspects.
The simplest thing to do here is to use the camera on your phone but that may give mixed results, especially if the lighting isn't just right. Newer iPhone tend to have very good cameras as do some of the more expensive android models and if you can improve the lighting in your room this can be a good option.

Go Pro Hero 7
or
Sony HDRAS300
are high quality cameras meant for streaming good quality video and include good stabilization which helps make things feel smoother as you move around with them. In order to use them with software such as Zoom you will need a video capture box such as the
Elgato HD60
or the more compact
Elgato CamLink
. Of course the capture box needs to be plugged into a computer so you may need to put a laptop in a rucksack to get the mobility you need.
Webcams are cheaper and simpler than the Go Pro or Sony cameras and do no need a separate capture card. However it's hard to get high quality video from them and they do still need to plug into a computer (so you may still need to have that laptop in a rucksack). They're also hard to get hold of as of writing this because there's a very high demand as everyone is working from home. The
Logitech StreamCam
is a high quality webcam, it's a step up from the
Logitech C922 HD Pro
which also gives reasonable quality video.
You might also want to provide other fixed cameras the players can look through. One very simple way to do this is to use a security cameras that provide their own mobile or web app to view them live, you can then give the players access to this software during the game. Alternatively you use a camera just like your main camera and have it join the video call along with the host and the players. It'd very important to mute any sound from your secondary cameras or you risk getting feedback noises.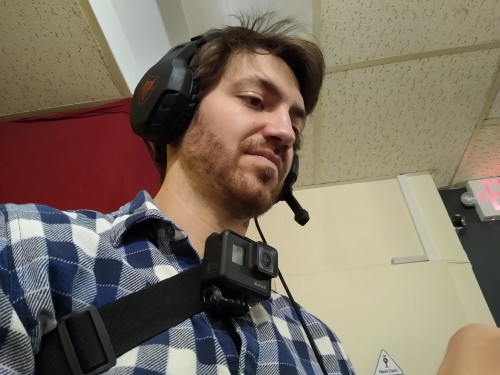 Extra Hardware
You'll almost certainly want to invest in some extra lighting for your rooms, dark and atmospheric may work in person but over video you need a bit of light. You also want some kind of mount to hold the camera on your body and/or a small tripod to place the camera down on when you need to show something close up.
Video Streaming Software
You'll need some software that allows you to stream video to your players and allows them to talk to you and to talk among themselves. Some options for this are:
Zoom
Google Hangouts Meetings

Facebook Video
WhatsApp Video
The most popular right now is Zoom as it tends to work well on a variety of devices gives good control to the host. You can schedule a meeting in Zoom and invite your players. For players that don't have a microphone on their computer Zoom allows them to call in using their phone (while still viewing the video on their computer). Zoom also allows you to send text messages and pictures to the payers which can be a very useful feature (see the "Extra Media" section below).
Video Processing Software
Technically all you need is video streaming software such as Zoom but you might also want some processing software to do things like add graphics or watermarks to your video stream. This is a more advanced topic but if this sounds like something you want then check out these software packages:
Open Broadcast Software (OBS) is free and popular with people who stream video, it will let you do various things with the video stream before sending it out. Connecting OBS and Zoom isn't totally simple though. The free
OBS-VirtualCam plugin
can be used on Windows to make OBS's output appear like a
webcam which Zoom will then happily use.
Extra Media
Live video is great but sometimes players will want to look closely at particular item and a photo might be more useful. If you take photos of all the items before hand you can have them ready to send either as soon as they are discovered or if they are requested by the players. Software such as Zoom will allow you to send photos in the text chat so that they can be viewed by all players. Then each player will be able to refer back to the photo as needed and zoom in if they need a closer look.
You can do the same thing with PDFs for textual documents and you could even send prerecorded video and sound files.
Puzzles
Not all puzzles will work well over live video so it's important to play test and remove or modify puzzles that don't work.

Join the Community
For help with all issues related to creating live video Escape Rooms please come over to the
Live Video Escape Rooms Facebook Group.
We'll be happy to welcome you as our newest member!