Zoom isn't the only choice for delivering Live Video Escape Rooms (Google Meets is another good choice) but it is the most popular currently and has some features that make it very well suited and it is currently my recommendation for streaming software.

This article gives some advice if you decide to use Zoom. If you're looking or more general advice on creating a Live Video Escape Room then check out my getting starting guide or the video of the talk on the subject I gave at Escapazon.
Free vs Pro
Zoom has a free plan but this is limited to 40 minutes at a time for meetings of more than 2 people. You'll almost certainly want more than this so you'll need the Pro plan at a cost of $14.99/month.
Scheduling a "meeting"
It is possible to schedule a "meeting" in zoom well in advance. This is superior to starting the meeting at the time of the game as it means you give the booker the link along with instructions for joining with plenty of time for them to forward it to the other players on their team.
To schedule a meeting log in to your Zoom account at zoom.us and click "Schedule a meeting". Enter a name (eg "Tom's group for My Escape Room") and set the date and time. You can set the duration to 1 hour but don't worry about getting kicked out if you run over, a meeting can go longer than the set duration with nothing bad happening.
Leave "Registration required" unchecked and Meeting ID set to "Generate Automatically". You'll also most likely want to leave "Require meeting password" ticked, although counterintuitively this probably won't mean the players have to enter a password when joining the meeting. The reason for the strange password behaviour is that the invite link usually includes an encoded version of the password within the URL.
You'll probably want to set both Host and Participant video to "on" so that everyone starts with their video on. Turning off player videos is an option if connection speed is a problem but all other things being equal it's nice if players can see each other while they play.
In the Meeting Options tick "Enable join before host" and untick "Enable waiting room" (if you leave both ticked them one will override the other). This will allow players to join the meeting and chat with each other before arrive and start the game. This is a nice way to do things, remember that you're providing a social experience for your players and giving them a chance to chat before the game enhances that!
Click "Save" to schedule the meeting and you're all ready to go!

ALTERNATIVE: Some people like to do it a different way and tick "Enable waiting room" and untick "Enable join before host". This stops players from chatting before you arrive but does give you control over when they enter the room and can feel a bit neater.

PRO TIP: To avoid having to change all these settings every time you can click "Save as a Meeting Template" at the bottom of the confirmation screen. Then next time you can just select the template and it'll set everything up for you without all that tedious clicking. This works when using the Zoom.US website to schedule the meeting, it may not work on the desktop app or the mobile app.

Email to the players

Once you've created the meeting the confirmation screen will show a "Join url". This is all you really need to send to players, Zoom can generate a more detailed invite but most of the information it contains isn't really needed.
You can email this to players right away or on the day of the booking, but I highly recommend getting it to them at least a few hours before the booking time. You should include along with the url some clear instructions for using Zoom including suggesting that they download it rather than using it through their browsers and that they use it on a computer if possible not a phone.
Joining as the host
If you log in to the Zoom client on your phone or computer it should show you a list of scheduled meetings, this makes it easy for you as the host to join the correct meeting at the correct time. Remember that while you can join the meeting using the link you sent to the players if you're not logged in then you'll not have host privileges and the you may get kicked out after 40 minutes (since as far as Zoom is concerned there is no paying customer present).
Spotlight
The default behaviour for Zoom is that it shows one person's video at the time and it switches based on who is talking. This is not what you want for an escape room, even if a player is giving instructions you still want everyones main view to be your video stream of the room. If you're joining zoom from a laptop you can "spotlight" your video which forces it to be the main video or everyone. You may find that spotlight only becomes available once there are more than two people in the call. It seems that sometimes this feature isn't available on mobile so the next best thing is to tell the players to switch to "gallery" mode (button in the top right of their screens) then "pin" your video by clicking on the three dots button and selecting "pin video".
Taking the team photo
When people play an Escape Room in person it usually ends with a (hopefully!) triumphant team photo. And you can do (almost) the same thing on a live video session by switching zoom to "gallery" mode (where it shows everyone's screens at once) and taking a screenshot. You can email that to the players after the game as a souvenir.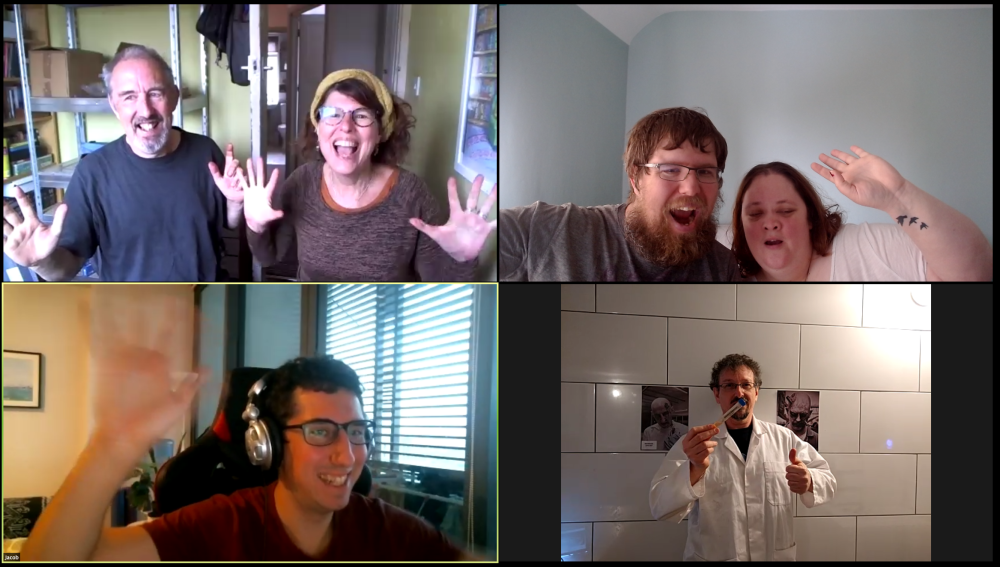 After the game
Once they've finished playing it's nice to have a chat with the players, you can take this as an opportunity to go over what they liked about the game and solicit feedback (usually best to focus on the good stuff though so they go away remembering that). Once you've chatted a really nice touch is to leave the players alone to discuss the game, you can say goodbye and exit the Zoom meeting and the players can remain there for up to 40 minutes to discuss. It costs you nothing to do this and allows the group of friends some more social time together cementing the good time they've had.
I hope this article has been useful to you, if it has please share with any friends who might also find it useful. And please do join us on the Live Video Escape Rooms Facebook group!